Intermittent fasting means that you don't eat for a period of time each day or week, With intermittent fasting, you only eat during a specific time. Fasting for a certain number of hours each day or eating just one meal a couple days a week, can help your body burn fat. And scientific evidence points to some health benefits, as well.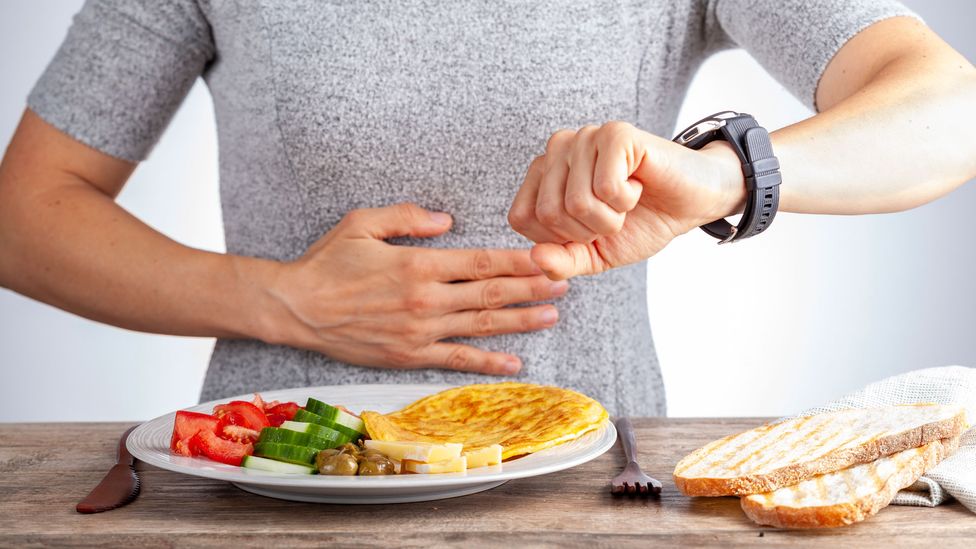 Now,
You may be wondering…
How is this possible? Isn't skipping breakfast bad for you? Why would anyone fast for 16 hours every day? What are the benefits? Is there any science behind this or are you just crazy? Is it dangerous?
Johns Hopkins neuroscientist Mark Mattson, Ph.D., has studied intermittent fasting for 25 years. He says that our bodies have evolved to be able to go without food for many hours, or even several days or longer. In prehistoric times, before humans learned to farm, they were hunters and gatherers who evolved to survive — and thrive — for long periods without eating. They had to: It took a lot of time and energy to hunt game and gather nuts and berries.
How does intermittent fasting work?
There are several different ways to do intermittent fasting, but they are all based on choosing regular time periods to eat and fast. For instance, you might try eating only during an eight-hour period each day and fast for the remainder. Or you might choose to eat only one meal a day two days a week. There are many different intermittent fasting schedules.
To understand how intermittent fasting leads to fat loss we first need to understand the difference between the fed state and the fasted state.
Your body is in the fed state when it is digesting and absorbing food. Typically, the fed state starts when you begin eating and lasts for three to five hours as your body digests and absorbs the food you just ate. When you are in the fed state, it's very hard for your body to burn fat because your insulin levels are high.
After that timespan, your body goes into what is known as the post–absorptive state, which is just a fancy way of saying that your body isn't processing a meal. The post–absorptive state lasts until 8 to 12 hours after your last meal, which is when you enter the fasted state. It is much easier for you body to burn fat in the fasted state because your insulin levels are low.
When you're in the fasted state your body can burn fat that has been inaccessible during the fed state.
Intermittent Fasting Benefits
Here are some intermittent fasting benefits research has revealed so far:
Thinking and memory. Studies discovered that intermittent fasting boosts working memory in animals and verbal memory in adult humans.
Heart health. Intermittent fasting improved blood pressure and resting heart rates as well as other heart-related measurements.
Physical performance. Young men who fasted for 16 hours showed fat loss while maintaining muscle mass. Mice who were fed on alternate days showed better endurance in running.
Diabetes and obesity. In animal studies, intermittent fasting prevented obesity. And in six brief studies, obese adult humans lost weight through intermittent fasting.
Tissue health. In animals, intermittent fasting reduced tissue damage in surgery and improved results.
Some popular approaches to intermittent fasting include:
Alternate-day fasting. Eat a normal diet one day and either completely fast or have one small meal (less than 500 calories) the next day.
5:2 fasting. Eat a normal diet five days a week and fast two days a week.
Daily time-restricted fasting. Eat normally but only within an eight-hour window each day. For example, skip breakfast but eat lunch around noon and dinner by 8 p.m.
Intermittent fasting is safe for many people, but it's not for everyone. Skipping meals may not be the best way to manage your weight if you're pregnant or breast-feeding. If you have kidney stones, gastroesophageal reflux, diabetes or other medical problems, talk with your doctor before starting intermittent fasting